gold colored Medical symbol, color black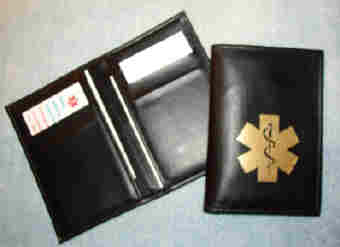 The black leather-like Hipster bi-fold Medical wallet get it's name because it is thinner than most bi-fold wallets for extra protection on your hip, hence the name Hipster wallet. It is also small enough to fit comfortably in the upper suit coat pocket or inside a purse. This Hipster black leather-like bi-fold Medical wallets have the feel and look of tumbled textured leather at a fraction of the cost. The Medical symbol is Gold colored Hot Stamped outside.
Inside the Hipster black leather-like bi-fold Medical wallet are 6 leather credit card slots, 2 pockets, one on each side under the card slots. Solid construction with edge-stitched seam and a reinforced spine. That's it, small, simple and thin. Includes a Medical Information Card, you fill out with your current health information.
Price; $7.
65
Size; 4 1/2" high by 3" wide closed, 4 1/2" high by 6" wide opened
Three colors; black, light brown and dark brown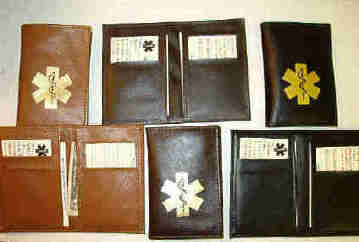 If for some reason you don't want to use the PayPal secure online payment process, please click here.
Shipping outside the United States and Canada require different shipping and handling charges, Please see Medical Alert Wallets policy and terms page for international shipping charges.
You have a better chance of correct medical aid and early diagnose with the help of the Medical symbol and your current health information you've printed on the Medical Information Card in your new Medical Wallet.
It is important that if you have any allergies, medical conditions or take medicines, then you should have a Medical symbol on you somewhere and what a better way then on your wallet and inside is all your current medical information on the Medical Information Card.
"Feel Safe and Secure with Medical Wallets"